Vet2Viz Story – Ethan Lang
I've found my story similar to many veterans who get out of the military and transition to civilian life. I left the military in 2013 and I only knew one thing; I didn't know what I was doing. I took all the classes and went to all the webinars that are required. However; after I transitioned and the champagne dried up I was left feeling empty and lost. 
I started looking for a job and hit a lot of road blocks. I remember a very distinct interview with a big department store. The position I applied for was overnight stocking at an hourly rate of $12.50 (in those days that was quite a bit). I showed up to the interview 15 minutes early just like the military taught me and dressed in my finest. I was told to wait for the manager in the breakroom. I was shuffled to the back where I waited for about 45 minutes until she arrived. I stood up to shake her hand but she didn't come all the way into the room. She stood in the doorway and our conversation went something like this:
Manager: What's your name and what did you apply for?
Me: My name is Ethan Lang and I applied for the position posted online for overnight stocking.
Manager: Yeah okay, things have changed. We still have a similar position but it's from 11:00 PM – 3:00 AM three days a week at $7.50. That sound okay to you?
Me: Well no, the rate that was posted online was for $12.50 for overnight stocking, 11-3 is overnight stocking isn't? What's the difference? 
Manager: In this position you wont be bringing things to the floor from the backroom it will be placed for you so you just fill the shelfs. That's all I have. 
Me: Well I have a family and that isn't enough I am sorry but I will have to decline. 
Manager: Sounds good, have a good day. 
She then hurried out the door and left me standing there with my resume in hand completely taken aback. Not all of my interviews went down like this, but it was so degrading hearing no after no for positions I felt like I was overqualified for. I felt like I would never find something that would give me the stability I had come to know in the military. 
Luckily for me I had a fantastic support system. My wife always had my back. She would pick me up when I was down and pushed me pursue a Bachelors Degree. I never thought school was in the books for me. I was an awful student in high school and didn't think I would make the cut. Needless to say there was a lot of self doubt that she helped me overcome.
I eventually got an offer at AT&T. After working for several months and getting my life back into a state of relative stability I decided to try to go to school using my GI Bill. I applied for the school of engineering at KU and soon after was accepted. It was in this program where I was introduced to statistics and data. I fell in love with the idea of looking at data and applying statistical analysis to it and draw out insight. I switched my major to Business Analytics that next semester. 
After college I found an opportunity to take an internship doing data work. By then I had been working at AT&T for 4 years and felt very stable financially. It was a gamble but I decided to take it on. I started in May and by July they offered me a full time position making almost double what I was making at AT&T. 
Lessons from my story
Never give up – The disappointments, the no's, the frustration. At the end of the day you have to shake that stuff off, hold your head high and try again. My dad always told me "It Ain't a good story if there ain't some hard times". Face them head on and keep going. 
Try something hard – I never thought school was in it for me but I decided to do it anyway. It took me a long time to learn that if things are easy you aren't growing. If you want to be successful you have to do the hard things in life. 
Take a chance – Taking an internship was a financial risk but it had big rewards in the end. If I had never taken that internship I know I would not be were I am today. 
Be humble – I learned after a painfully long time that I needed to earn a place in the civilian corporate world. I thought I was over qualified for a lot of the positions I applied for. However; I realized I had a lot to learn to become successful. Be humble and listen to those around you. If you show genuine interest in what others do they will teach you everything there is about it. 
Until next time,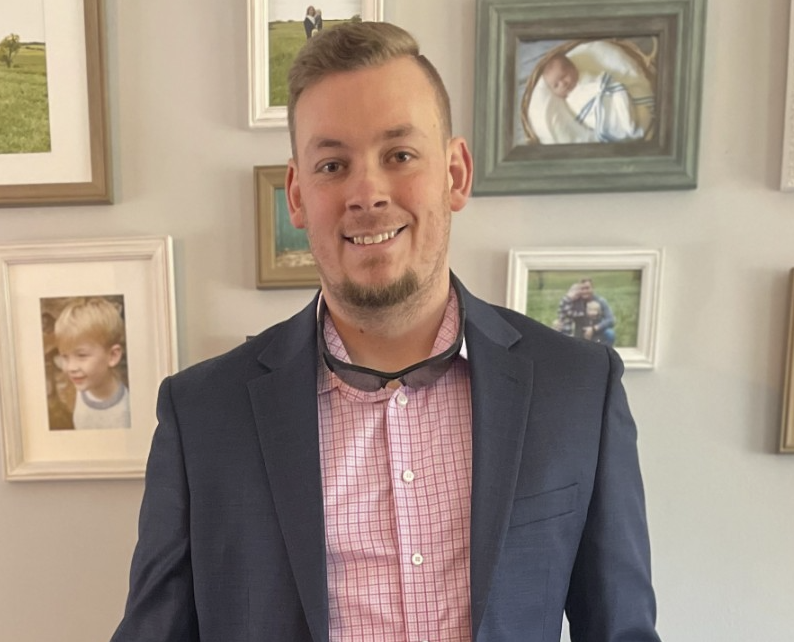 Ethan Lang
Ethan served in the US Army from 2010-2013. He holds a Masters in Statistics from University of Kansas Medical Center. He currently is the Associate Director of Analytics Engineering at Playfair Data. He specialized in data visualization and statistical analysis. Ethan lives in Kansas City with his wife and three children.